Germany's biggest opposition party is debating whether to begin talks with Angela Merkel on a minority government or a coalition, offering a way to restore political leadership in Europe's biggest economy.
It's the first sign the Social Democratic Party may be ready to help the chancellor stay in power after her talks on forming a coalition with three other parties fell apart. As SPD leaders met into the night on Thursday, party head Martin Schulz faced calls by Social Democratic lawmakers and state leaders to drop his refusal to join a Merkel coalition. Schulz favors pledging SPD support for a minority government, an arrangement Merkel wants to avoid.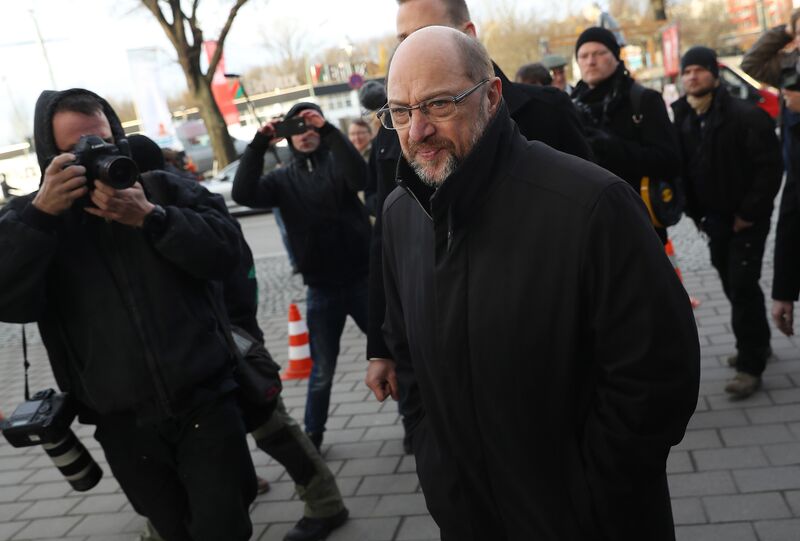 Two months after an inconclusive election that brought a far-right party into parliament, the impasse has left Merkel stranded even though she won a mandate for a fourth term. With Germany's political map in flux, her aversion to governing without a parliamentary majority and the SPD's refusal to be her junior partner for a third time may both be negotiable.
For an interactive guide to German coalition options, click here.
"The question on the table is which kind of contribution the SPD can make for the country," Hubertus Heil, the party's secretary general, told reporters in Berlin. "This will take some time."
Schulz, who led the SPD to its worst result since World War II in September, faces increasing pressure within the party to step aside, a move that might help clear the way for a grand coalition. Heil sought to quell the speculation, saying "personnel matters" aren't on the agenda for now.
Schulz is ready to hold talks with Merkel and is prepared to back her in a minority government, though he won't offer another grand coalition, according to a person familiar with his thinking who asked not to be identified. That arrangement might involve an SPD pledge to support Merkel on legislation on a case-by-case basis without joining her administration.
"Of course we want to help Germany and we haven't ruled out anything," SPD lawmaker Karl Lauterbach said in a ZDF television interview. That includes the option of a "grand coalition" with Merkel's Christian Democrat-led bloc as a last resort, he said.
How Merkel and Germany Got in a Political Dilemma: QuickTake Q&A
Markets have taken the deadlock in stride, with Germany's DAX Index gaining 3.3 percent since the election on Sept. 24. The euro rose 0.3 percent to $1.1852 in Frankfurt.
"The economic situation in Germany is simply too stable at this time — even without a new government," Otmar Lang, chief economist at Targobank in Dusseldorf, said in a note. There's "no danger that markets will collapse under the current political uncertainties."
In or Out
As they weigh engaging with Merkel, the Social Democrats are split between those on the left who see the two coalitions with Merkel as the main reason for the slump in its support and those who spy a chance to push through policies such as expanded health care and reaching out to French President Emmanuel Macron to strengthen the euro area.
Many in the SPD would prefer to stay out of government to prevent the far-right Alternative for Germany, which entered parliament for the first time with 12.6 percent of the vote in September, from becoming the biggest opposition force.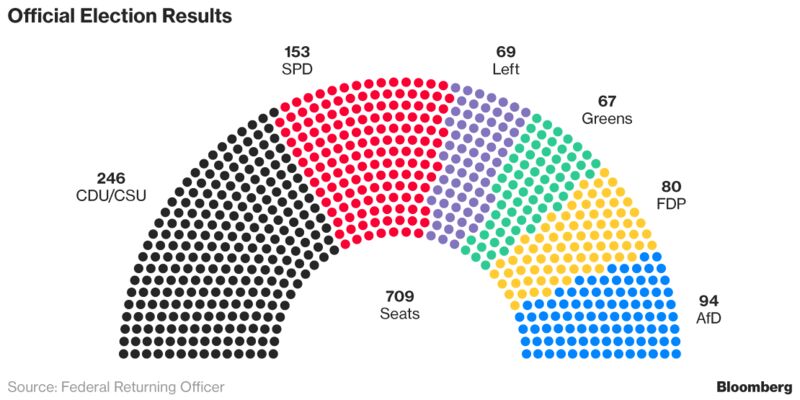 Volker Kauder, Merkel's parliamentary caucus leader, appeared to pour cold water on the idea of a minority government. Merkel, ruling in a caretaker capacity since she emerged weakened from the election, has signaled she would rather face new elections than govern without a majority.
"If there is no other choice, this option will have to be used but making policy and day-to-day parliamentary business would be endlessly complicated," the Suedwest Presse newspaper quoted Kauder as saying.
Read more: http://www.bloomberg.com/news/articles/2017-11-23/germany-s-spd-said-to-be-open-to-talks-on-new-merkel-government