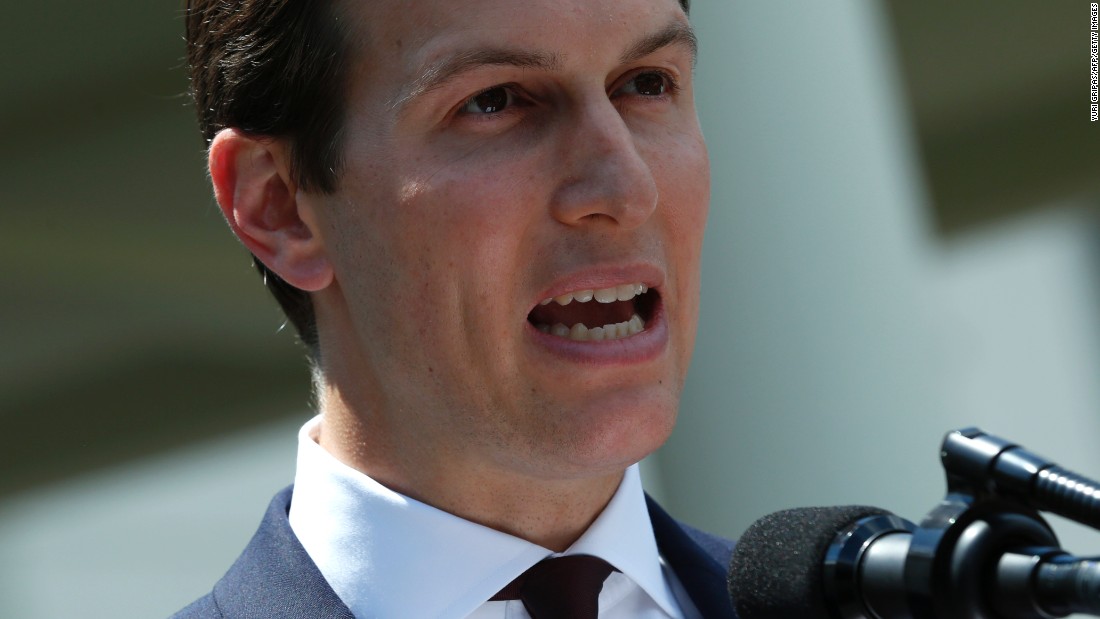 Washington (CNN)White House senior adviser Jared Kushner told congressional Russia investigators that he did not communicate with WikiLeaks and did not recall anyone on the Trump campaign who had, a source with knowledge of his testimony told CNN.
Kushner, President Donald Trump's son-in-law, was asked in July during his closed-door congressional testimony if he had any contacts with WikiLeaks or its founder Julian Assange and he responded that he had not, according to the source. He also told Congress he did not know of anyone on the campaign who had contacted WikiLeaks.
A separate source familiar with Kushner's interview with congressional investigators said he accurately answered questions about his contact and didn't recall anyone else in the campaign who had contact.
In a statement Friday night, Kushner attorney Abbe Lowell said the committee had asked "a classic gotcha question.
"Mr. Kushner was asked if he had contacts with Wikileaks, Guccifer or DC Leaks and said no. He also said he did not know of such contacts by the campaign. From all I have now seen, his statement was accurate then as it is now. In over 6 hours of voluntary testimony, Mr Kushner answered all questions put to him and demonstrated that there had been no collusion between the campaign and Russia."
But Democrats are likely to amplify calls for Kushner to return for more testimony on the heels of a letter on Thursday from Senate Judiciary Committee leaders that charged Kushner failed to turn over certain documents on a range of topics to the committee, including those related to WikiLeaks.
The letter from Republican Sen. Chuck Grassley of Iowa, the committee's chairman, and Sen. Dianne Feinstein of California, the committee's top Democrat, said that others had provided documents showing "September 2016 email communications to Mr. Kushner concerning WikiLeaks, which Мr. Kushner then forwarded to another campaign official."
The same day he received the first Twitter direct message from WikiLeaks about an anti-Trump PAC, Trump Jr. emailed Kushner and other senior officials on the campaign telling them WikiLeaks had made contact, according to The Atlantic. Kushner forwarded that email to campaign spokeswoman Hope Hicks, who is now White House communications director.
The contents of Trump's Jr.'s email to Kushner and others are not known.
When Kushner went before the House and Senate Intelligence Committees, the committees investigating 2016 Russian election meddling had not yet been provided with the documents referenced in the Senate Judiciary Committee letter, according to the source.
A Democratic committee source said that Kushner was interviewed at a date when the panels "did not yet have the documents we needed for the interview."
"We expressed at the time that it would likely be necessary to bring him back, and allegations that still further documents have yet to be provided to the committee will likely make a return to our committee all the more necessary," the source said.
Kushner's lawyer responded on Thursday to the letter from Grassley and Feinstein insisting Kushner has been "responsive to all requests."
"We provided the Judiciary Committee with all relevant documents that had to do with Mr. Kushner's calls, contacts or meetings with Russians during the campaign and transition, which was the request," attorney Abbe Lowell said in the statement.
Kushner was interviewed behind closed doors before both the Senate and House intelligence panels in July, following the disclosure of the June 2016 Trump Tower meeting attended by Kushner, Trump Jr., Trump campaign chairman Paul Manafort and a Russian lawyer who was expected to offer dirt on Hillary Clinton.
"I did not collude, nor know of anyone else in the campaign who colluded, with any foreign government," Kushner said in the statement.
In the letter sent to Kushner on Thursday, the committee said the information Kushner provided on November 3 "may have overlooked several documents."
"There are several documents that are known to exist but were not included in your production," Grassley and Feinstein wrote.
A Senate Intelligence Committee spokeswoman declined to comment and a House Intelligence Committee spokeswoman did not respond to a request for comment.
Read more: http://www.cnn.com/2017/11/17/politics/jared-kushner-july-testimony-did-not-recall-campaign-wikileaks-contact/index.html